Best Sewer Line Replacement Experts in Houston, TX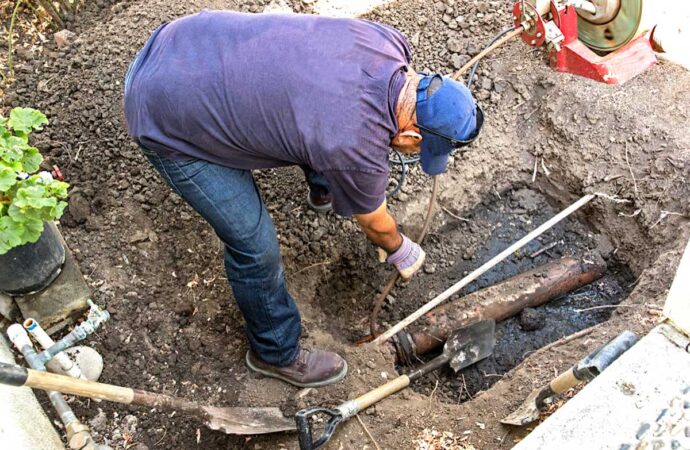 Do you have your sewer lines already worn-out – either cracked, damaged, or punctured one way or another? It can cause a great deal of mayhem if it passes unmaintained. That's why you need to make it to a point that you properly maintain them so you avoid repairing or replacing them.
But are you aware of the usual and the regular causes of Sewer Line damages that would most often need and require the act of replacing it? A certain level of damage, most usually, would not need a replacement service; but to a particular extent, it could be up for a replacement service already.
Common Sewer Line Damage Causes
---
There is a heap of causes that can actually contribute and point to the fact of why and how your sewer lines have been damaged. The most common reasons why it's looking like how it now includes:
The buildup of fragments and debris (hair, grease, oil, tissue papers, etc.)

Poor and improper maintenance services

Age (wear and tear)

Uprooting from trees, puncturing and damaging the sewer lines

And many more
If any of these happen to your sewer lines, expect that you would either need a Sewer Line Repair Service or a sewer line replacement already.
Common Signs of a Broken or a Damaged Sewer Line
---
Now that you know some of the major causes– what signs are involved in telling that you are already in need of a Sewer Pipe Replacement Service? What things should you take note of so you avoid high and extra fees?
Standing water on your drains or drain floors

Random and weird sounds and noises

Patches of water on your garden or your yard

Bad and foul smell/odor coming out of the soil
These are just some of the most common signs – there are a lot more, and when we mean by a lot more, an awful lot more. There are physical signs, as well as signs that can involve other areas of your home.
In case you failed to notice, these signs are actually pretty normal to know and be aware of. You don't have to be a sewage system expert for you to notice any of these things. As a matter of fact, you might even be experiencing some of them now.
Sewer Line Repair or Sewer Line Replacement?
---
Now, the next thing you have to wrap your head around would be in choosing what service is best for the condition of your Sewer Pipes. Would a normal and quick Sewer Line Repair service suffice? Or would you rather need a complete and comprehensive Sewer Line Replacement service? More often than not, a Sewer Line Repair service would only be applicable if the damages aren't that grand or serious. In fact, if you see small cracks and damages that can be restored through pipelining or fitting, you're safe.
On the other hand, if the damages are well over and beyond repair, you need to plan and contact the Sewage System Experts you have on-call to help you with your dilemma. Take note that the rates and prices for a Sewer Line Replacement Service are usually substantially higher and pricier than that of a regular repair. So, you need to make the right decision.
Choosing the Best Sewage System Company
---
There's a wide range of options you have in choosing a Sewage Line or Sewage System Company to work with. There are a lot of companies and service corporations that have decades of experience, making it harder and more challenging for you to choose from.
However, choosing us here at Greater Houston Septic Tank & Sewer Experts can actually help you lighten and ease the difficulty in that dilemma. How? – Through the Free Sewage System Inspection facility that we offer our potential clients.
How Our Sewer Pipe System Inspection Works
---
The free Sewer Line Inspection we offer can help all property owners find out what specific service they need for their sewage lines and systems. As a matter of fact, this is the only thing that they'll ever need because they wouldn't actually need to bramble about various options any longer – saving them time, money, and efforts in doing so.
As our experts have been trained to be committed with utmost dedication, you can never find a Sewer Line Replacement Service as comprehensive and as complete as how we do it here. Unlike other companies that juggle through various options, we can formulate a solid plan before going out, executing the service needed. There are tons of ways on how we can give our clients the assurance and the guarantee that they'll be successful in getting the service that they need from us, and part of it would be the free sewage system inspection process.
Don't Waste Time and Work With Us Now!
---
Are you tired of receiving the same quality and level of services your local plumbers are giving you? Don't you think that it's time for you to have an upgrade on your services so you can have better, and more effective Sewage Lines and Systems?
In case you're on that chase to work with the most reliable, the most trusted, and most sought Sewage System Company for the Main Sewage Line Replacement Service that you need, don't hesitate to work with us here at Greater Houston Septic Tank & Sewer Experts.
You can contact us by dialing our hotline or by shooting us a quick email! No matter how broken or how bad the situation of your Sewer Lines is, you can bank and count on us to help you with everything.
Dial us now and contact our team! Alternatively, you can also choose to send us an email regarding the specific services you are in dire need of for your sewer lines!
Regret will never be in your books should you choose to work with us – the most trusted and the best Sewage System Company in the whole of Greater Houston!
We offer a variety of services at the Greater Houston Septic Tank & Sewer Experts. Below, you will see the most popular services our clients & customers always ask for. But if you need something that may not be listed, don't worry. Just give us a call or fill out a form, and we'll make sure to come out to your property or business and make sure we can help you solve your septic problems
Here is a list of the additional services you can get at Greater Houston Septic Tank & Sewer Experts:
Here at the Greater Houston Septic Tank & Sewer Experts, we provide the best septic tank services throughout all of Texas and specifically the Greater Houston Area. Below are the nearest cities we can offer immediate services. But if you don't see your city listed below, don't worry! Just give us a call or fill out a form on our contact page, and we'll make sure to take good care of you.
Greater Houston Septic Tank & Sewer Experts
11807 Good Spring Dr Houston TX 77067
713-568-0151