Best Grease Trap Pumping & Cleaning Services in Houston, TX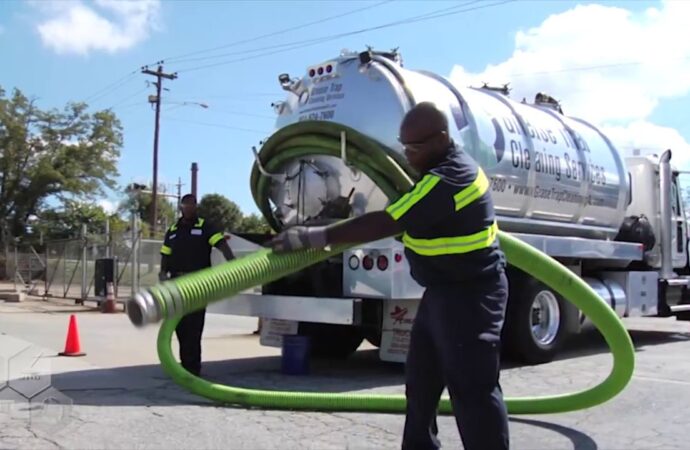 If this is your first time owning a house, then you probably need to take a look at the grease traps you have within your kitchen. Grease traps are real and they're installed in every kitchen, you might just not be aware of it. But do you know what a grease trap really is? Are you aware of what they do for the maintenance of your living space?
What is a Grease Trap?
---
From its term alone, a Grease Trap is a mechanism that is specifically made and designed to "trap grease," preventing them from flowing into your drainage system. Because it's unavoidable to wash plates that don't have oils and grease, the function of the grease trap is to disallow the passing of such wastes to it that can cause drainage blocking or clogging.
Grease Trap Cleaning & Pumping
---
As much as we want it to be self-sustaining, it's actually not. More often than not, grease traps aren't actually cleaned and maintained every so often, leaving them weaker, brittle, and harder to clean. 
Whether you're worried about the grease traps within your home or the ones in your restaurant or a commercial establishment, you need to make sure that you have it cleaned and pumped at least once every four (4) to six (6) weeks.
Doing so can eliminate all the potential problems that might arise with your grease traps. So what's the procedure for pumping and cleaning your grease traps?
Cool water down from within the tank

Detach the lid of the grease trap

Suck out sludge or solid-liquid waste that has been formed (usually at the top of the tanks)

Scrape off and clean the lid, side of the trap, bottom part

Use warm water, good soap, a cleaning agent, and a pot scrub to remove the stains caused by grease and sludge within the tank

Test if the process is a success by draining one gallon of clean water from the sink. The water should flow through and there shouldn't be anything blocking it

Attach the parts and components of the grease trap again

Seal and properly dispose of the sludge that you got from your tanks
There aren't a lot of companies that offer complete and comprehensive cleaning and pumping of grease traps. Many of them lack the skill of identifying which to clean, what to do, and what they need to complete and accomplish first.
But, here in Greater Houston, no other Grease Trap Pumping & Cleaning Service company is trusted but us here at Greater Houston Septic Tank & Sewer Experts. We have been the go-to plumbing system experts homeowners, as well as business and commercial property owners, trusted for a year now. Whenever they encounter any problem with their grease traps – or if they need an in-depth and thorough service or procedure of pumping and cleaning grease traps, we're just a call or an email away!
What Services You Can Get With Us
---
Our company has been considered by many as their main choice for all the services they need when it comes to their grease traps. As a matter of fact, we have been dedicated and committed to learning more about the mechanisms of these grease traps, allowing us to help our clients more and further down the road.
We started out in the industry as drain cleaners and plumbers, excelling in being sewage line and system maintenance men and grease trap maintaining experts. But, it wasn't far too long until the time that we learned how to properly pump and clean grease traps, helping out not just homeowners, but restaurants, cafes, bars, and other establishments too.
Some of the services that we have grown on and learned include:
Grease Trap Cleaning & Pumping with Maintenance

Drain Cleaning Services

Septic Tank Installations, Cleaning, Pumping, Repair, and Replacement

Sewer Line Repair and Replacement

And Many More!
If you're interested to know more about the other services we offer, you can navigate through the Main Services page that we have here on our website! You'll see the complete list of whatever service you need related to your drainage, sewage, septic tank, or grease trap.
The Best Company to Pump & Clean Grease Traps
---
In our years of service, no other competitor overtook our position in the market as the best and the most reliable Grease Trap Pumping & Cleaning company. The comprehensive Grease Trap Pumping & Cleaning Service that we offer would absolutely help out all property owners with their grease trap problems and dilemmas.
By working with us, you can be given the assurance that you'll be able to use your sinks without wearing out your grease traps. In fact, choosing us can extend the lifetime and the life expectancy of your mechanism by more than 30%!
Choosing us here at Greater Houston Septic Tank & Sewer Experts will allow you to save more, live better and easier, and have a stress-free life when it comes to functionality, as well as the overall conditions of your grease traps.
Don't hesitate to Contact Us!
---
For all the problems and dilemmas you have with your grease traps, you can absolutely count and bank on our team of plumbing and grease trap experts and professionals to help you with the service that you need.
You can bank and lean on us to help you with whatever size and type of grease trap you have. In our time in the industry, we have helped and assisted restaurants, mansions – even hotels and bars in the maintenance, cleaning, and caring for their grease traps.
Wherever you are here in Greater Houston, you can always remind yourself that we're just an email or a call away. Through the strategically established headquarters we have, we will be there whenever you need us to be!
Contact us now and never worry about where you can get the best and the most effective grease trap pumping & cleaning service in Greater Houston!
We offer a variety of services at the Greater Houston Septic Tank & Sewer Experts. Below, you will see the most popular services our clients & customers always ask for. But if you need something that may not be listed, don't worry. Just give us a call or fill out a form, and we'll make sure to come out to your property or business and make sure we can help you solve your septic problems
Here is a list of the additional services you can get at Greater Houston Septic Tank & Sewer Experts:
Here at the Greater Houston Septic Tank & Sewer Experts, we provide the best septic tank services throughout all of Texas and specifically the Greater Houston Area. Below are the nearest cities we can offer immediate services. But if you don't see your city listed below, don't worry! Just give us a call or fill out a form on our contact page, and we'll make sure to take good care of you.
Greater Houston Septic Tank & Sewer Experts
11807 Good Spring Dr Houston TX 77067
713-568-0151