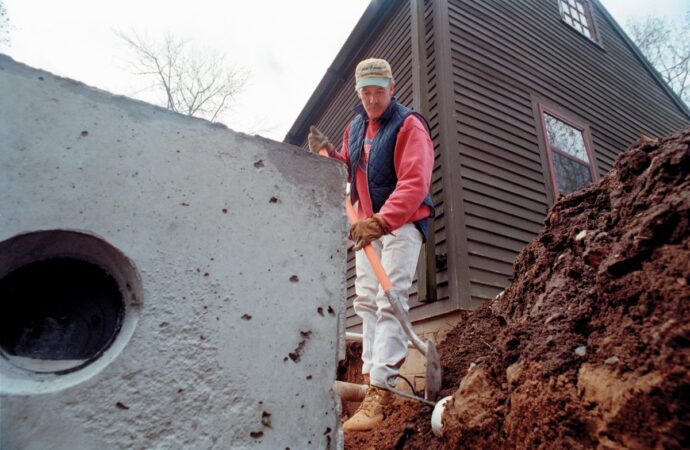 Looking for a reliable septic tank repair service? All you have to do is contact Greater Houston Septic Tank & Sewer Experts and our experts will come out to you. Our services are many that include repairing septic tanks, you're able to choose on our website which services you may need.
If your septic tank stops working you need to have faith in our business. It can cause all kinds of unpleasant issues such as the smelly septic tank that is unbearable and it will also cost you an awful lot of money to repair. If you have started to experience septic tank problems, you might want to have it fixed right away. It's best to have the experts assess your damage and advise you to repair Or replace the tank with a new one.
A septic tank can get damaged in a number of different ways. For example, Tree root damage to the septic tank–This happens when roots from your grounds or lawns grow through the sides of the tank itself,  a damaged baffle or dip pipe is an internal part of a septic tank which allows the wastewater to get into it while preventing the wrong type of waste from leaving the tank and entering the outlet pipe.
Best Septic Tank Repair Service
---
In the tank, walls-these splits or cracks can occur due to many factors. It may be due to a local ground move. The septic tank could also come out of the ground and happen more often than what you think. For instance, suddenly the amount of water in the ground is rising, and the pressure from the water can literally force the septic tank up and out of the ground. And you would have to have a septic tank repaired.
So contact our team to avoid the above problems. We can guarantee our services will be able to answer your septic system problems. We are open seven days a week because we want to make sure that we're always there when you call us. Now you can experience the service of our company at a budget-friendly price and with a flexible set of services. With many years of experience, we became one of the most influential in the field. Trust us, and you'll be happy with our work!
We offer a variety of services at the Greater Houston Septic Tank & Sewer Experts. Below, you will see the most popular services our clients & customers always ask for. But if you need something that may not be listed, don't worry. Just give us a call or fill out a form, and we'll make sure to come out to your property or business and make sure we can help you solve your septic problems
Here is a list of the additional services you can get at Greater Houston Septic Tank & Sewer Experts:
Here at the Greater Houston Septic Tank & Sewer Experts, we provide the best septic tank services throughout all of Texas and specifically the Greater Houston Area. Below are the nearest cities we can offer immediate services. But if you don't see your city listed below, don't worry! Just give us a call or fill out a form on our contact page, and we'll make sure to take good care of you.
Greater Houston Septic Tank & Sewer Experts
11807 Good Spring Dr Houston TX 77067
713-568-0151