Houston's Top Septic Tank Replacement Company Near Me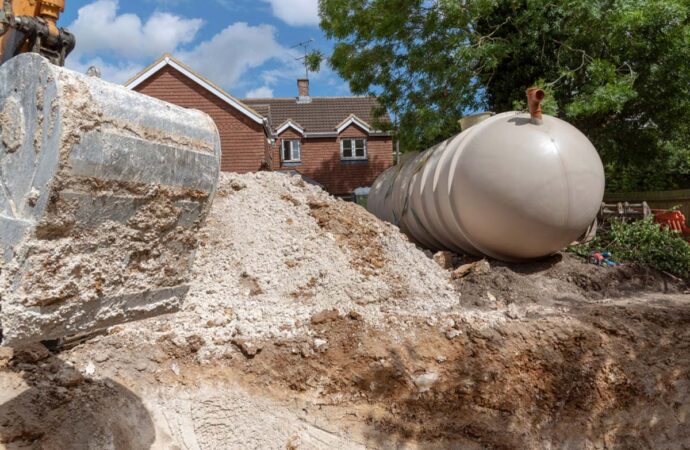 Replacing your septic tank can actually be a hectic and panicking concern. Since it's your septic tank we're talking about, it is a significant part of whatever your property is. More often than not, a Septic Tank Replacement Service is something that you can do if your septic tank is already beyond repair.
But how exactly would you know that a septic tank needs a replacement already? There are a few different things you can do to check. Even if you are not that well-versed and knowledgeable about Septic Tanks and Septic Systems, you'll easily be able to find out if you already need a septic tank or not by following these simple guidelines.
Slow Draining and Clogged
---
The first thing that you can have on the list is if you're already seeing slow draining and clogging within your septic tanks. If this gets held for too long, then the problem might have already crawled up to a degree wherein it's already beyond repair. 
Most of the time, slow draining and clogs are just a call for a regular Septic Tank Repair process. However, there are times when it's already not repairable.
Water Patches
---
When you notice certain water patches forming or puddled anywhere within your yard – that is of course, within reach of your septic tank – you need to repair them quickly. But, it's usually a sign that you need to replace your Septic Tank already as the drain fields might already be too worn-out.
The moment you see standing water or water patches within your grass, or anywhere within the vicinity of your tank – from your yard or your garden – action it immediately. You might still be able to save it from needing a complete and comprehensive replacement.
Insufficient Support From Septic Tank
---
---
All of us want to extend or develop our homes. However, if our septic tanks are designed and built only to support certain amounts of people and activities, chances are, your septic tanks might be overworked, causing it to be broken and severely damaged. When you have your house or your property developed, never leave your septic tanks or septic systems out of the blue. You also need to consider replacing them in order for it not to cause any severe damages that you might regret in the future.
These are just three of the most common and the most obvious signs that you already need a Septic Tank Replacement service. But what if it's your drain field or your leach field falling into the pits and traps of breakage – what things can you do for it to be restored?
Drain Field Failure
---
If the problem you're experiencing is with your drain fields or your leach fields already, then a simple repair might not be able to suffice it. As a matter of fact, it would already need to be replaced. All problems you are or you will be experiencing with your drain or leach fields often need to be replaced. So, if you have this problem, don't consider a septic tank repair – go straight with a Septic Tank Replacement Service and fix it all up at once.
The Best Septic Tank Replacement Company
---
Here in Greater Houston, no other Septic System Services Company is skilled and is capable of providing a whole wide variety of Septic Tank and Septic System Services than us here at Greater Houston Septic Tank & Sewer Experts. We have been the people's choice for whenever they needed help and further assistance when it comes to their Septic Tanks and Systems.
We're the company they fully trust whenever they need help with a Septic Tank Repair, Septic Tank Maintenance, Septic Tank Replacement, and so on.
We Have Skilled Septic Experts
---
Unlike other companies that hire experts and servicemen out of the blue, we carefully filter and assess people who would be a part of our team. We like to make sure that everyone who would be working with us will be equipped with the right, the best, and the most appropriate knowledge that would help out in our goal of providing excellent and premium quality Septic Tank Services to our clients.
Whether you have a residential septic tank or a commercial septic system, you will never go wrong in choosing us!
Contact Us Today!
---
While there are a lot of other Septic Tank Service and Maintenance Companies out there in the market, working with our team will give you the full advantages and benefits you wouldn't be able to get if you choose to work with other plumbing and sewer companies.
Being the best in the market and in the entire vicinity of Greater Houston, you will always get the quality and the caliber of services you're expecting if you go and choose us here at Greater Houston Septic Tank & Sewer Experts.
Our Septic Tank Replacement Procedure
---
When it comes to our Septic Tank Replacement process, you can absolutely bank and count on us to perform only the needed procedures. In fact, we will do a free septic system inspection so we become aware of all the things that your septic tanks and systems need. From the inspection and the assessment to the selection of materials and components – to the execution of the service, you can expect only the best and the highest quality of results!
Work with the best and never look back at the worst times you've had with your local sewage and septic systems company. Get the opportunity to work with the best and to experience world-class and premium quality Septic Tank Replacement Services wherever you might be in Greater Houston!
You're One Call Away!
---
Whatever property type you have – and wherever you may be, you can bank and count on us and our entire team to help you. You are one call or email away from experiencing the best and the most sought-after Septic Tanks and Systems Maintenance and Services in the city. Don't hesitate to call us or to reach us! We will absolutely be of service!
We offer a variety of services at the Greater Houston Septic Tank & Sewer Experts. Below, you will see the most popular services our clients & customers always ask for. But if you need something that may not be listed, don't worry. Just give us a call or fill out a form, and we'll make sure to come out to your property or business and make sure we can help you solve your septic problems
Here is a list of the additional services you can get at Greater Houston Septic Tank & Sewer Experts:
Here at the Greater Houston Septic Tank & Sewer Experts, we provide the best septic tank services throughout all of Texas and specifically the Greater Houston Area. Below are the nearest cities we can offer immediate services. But if you don't see your city listed below, don't worry! Just give us a call or fill out a form on our contact page, and we'll make sure to take good care of you.
Greater Houston Septic Tank & Sewer Experts
11807 Good Spring Dr Houston TX 77067
713-568-0151