Fast Commercial Septic System Installers in Houston, TX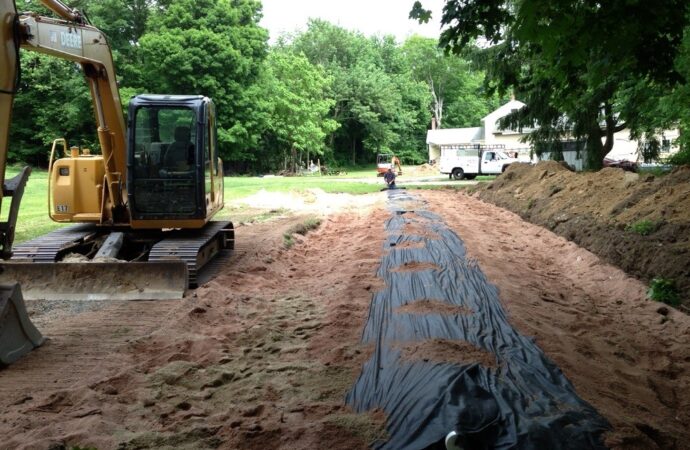 A public sewer or septic system is vital for the functionality of a certain area – may this be villages, subdivisions, or even as large as a city. Imagine if all the human excretion and waste were just piled up into one area without proper governance. It, of course, conjures up a vile and hideous image. The foul odor would reek to the neighboring houses or even cities. Because well, it's a conglomeration of all the human waste! The concept of commercial septic systems was created to prevent this.
As a result, almost everywhere you go to observe a proper public sewer system. One that does not let any wastewater or sewage rise back up to the surface. A commercial septic system must be competent and effective in storing and holding all the sewage.
When You Need A Large-Capacity Septic System
---
A large-capacity septic system is typically needed in areas that do not utilize a local municipal sewer system. The only answer would be to have a commercial sewage treatment plant installed for the treatment of wastewater. 
A commercial sewage treatment plant may also be installed for cases in which the public main sewer cannot sustain or handle the capacity of wastes generated in a certain area.
Commercial from Residential
---
There is not much of a difference between a commercial septic system from a residential one. Both work in a similar way. 
However, whereas solid particles are eliminated from the wastewater in a residential septic tank under the natural process of bacterial breakdown, a large-scale one:
operates with a larger amount of wastewater

requires several kinds of cleaning equipment since it deals with a larger volume of sewage

several different types of contaminants are in the wastewater such as oils, fats, and grease based on the commercial property

must be frequently pumped and inspected more times than a residential septic tank due to the amount of sewage permeating through the groundwater is higher to avoid contamination
Properties that are considered commercial are typically ones that operate for business and finance purposes such as hotels, stores, malls, manufacturing sites. It may also be as simple as schools, laundromats, offices, etc. The properties are usually frequented by a large number of people.
Maintenance for Large-Scale Septic Systems
---
Just like anything, a public septic system must be properly maintained. Especially since more people would be affected by a malfunctioning septic system. Regular maintenance must be observed. Sludge buildup is more frequent in large-capacity septic tanks than in residential septic tanks. This is due to the higher volume of people using and benefitting from the same system. The risk of environmental contamination increases every time your regular maintenance is amiss.
The best tip for this is to coordinate with your trusted septic and sewer provider to schedule and regulate the frequency of your maintenance. With us at Greater Houston Septic Tank & Sewer Experts, our clients can schedule when they will have their next inspection or maintenance. This is to assure our customers will never miss a day of their maintenance.
Some tips to consider for the easier maintenance of your septic system are:
Keep a diagram of your public sewage treatment plant so your service provider will be able to find it easier to pinpoint the parts of your septic system that may need to be repaired, fixed, or maintained.

To estimate the volume of your expected effluent.

Employ a proper grease trap to avoid clogging and any foul odor.
Moreover, there are some things to avoid:
Fats, oils, and grease must not be disposed of down the drain to avoid any plumbing issues.

Any structural building must not be built over the drain field.

Any vehicle must be kept from parking or driving on the drain field.

Feminine hygiene products, diapers, wipes, and any solid waste must not be flushed down the toilet.

Trees must not be more than 10 feet away from the drain field. Roots may grow into the drain field which can cause septic issues.

Excess water must be managed and not flow down into the septic system.
If your septic system starts to emit a foul odor, vivid green grass starts appearing anywhere near your system, or anything unusual, do not hesitate to your service provider. Likewise, there are two types to inspect the septic system. These are visual and full.
Visual inspection requires the flushing of toilets and letting the faucets run for a few minutes. This is conducted to see if there are any possible leakages as well as other issues.

Full inspection is conducted in a more meticulous way. This is conducted by checking the inside of the tank to determine the water level and if there is any possible leakage or overloading.
Quality Service Provider
---
Clients must coordinate with a professional, qualified, and well-experienced service provider upon the installation and/or maintenance of their septic systems. May the septic system be commercial or residential, it is essential that they are well-maintained. In any situation in which you think your septic system may be compromised, immediately contact your service provider. You cannot risk any type of contamination. Neither are you too sure if your septic system is still properly maintained especially with the smallest details.
Welcome to Greater Houston Septic Tank & Sewer Experts! We conduct both visual and full inspection of our clients' septic systems to thoroughly examine any possible issues that may arise. We ensure to eradicate any potential problems. Prevention is always a better option. Moreover, we do not overlook to ask our clients for the diagrams of their septic systems so we could do our job better, easier, and more efficiently.
We also regularly check for the septic systems we have installed because our client's safety is our number one priority. Should you ever consider having your septic systems installed or maintained, just contact us. Do not hesitate to come to us for our aid, in any case, that you need it. We have been in the industry for many years now and never have we received any complaints from our clients.
We offer a variety of services at the Greater Houston Septic Tank & Sewer Experts. Below, you will see the most popular services our clients & customers always ask for. But if you need something that may not be listed, don't worry. Just give us a call or fill out a form, and we'll make sure to come out to your property or business and make sure we can help you solve your septic problems
Here is a list of the additional services you can get at Greater Houston Septic Tank & Sewer Experts:
Here at the Greater Houston Septic Tank & Sewer Experts, we provide the best septic tank services throughout all of Texas and specifically the Greater Houston Area. Below are the nearest cities we can offer immediate services. But if you don't see your city listed below, don't worry! Just give us a call or fill out a form on our contact page, and we'll make sure to take good care of you.
Greater Houston Septic Tank & Sewer Experts
11807 Good Spring Dr Houston TX 77067
713-568-0151