Best Sewer Line Repair Specialists in Houston, TX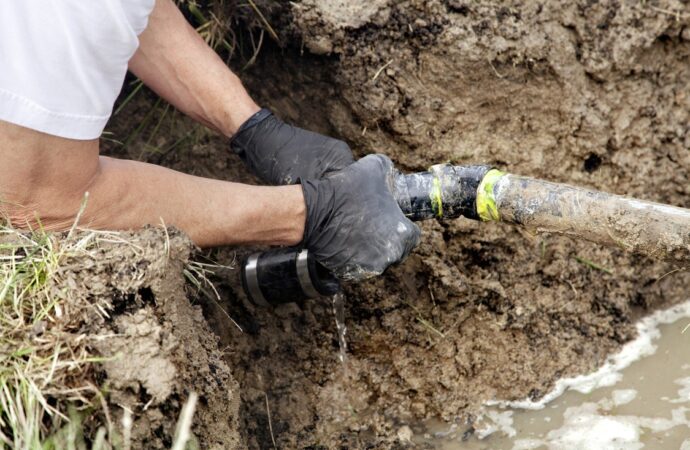 Having a Sewer Line Repair can be one of the most expensive and the most tedious procedures you can have involving your sewer lines. Because most sewer lines are made and are designed to withstand damage, it's not seen as a normal thing for your sewer lines to be damaged.
More often than not, people have the misconception that a Sewer Line Repair service is just the same as a Sewer Line Replacement. When in reality, they're actually different. From the terms alone, you would already have the idea that a Sewer Line Repair is a process that would just repair the worn-out or damaged sewer lines. On the other hand, a Sewer Line Replacement is a service that actually involves the removal of the sewer line, replacing it with a new one.
When You Need a Sewer Line Repair Service
---
This is one, if not the most common question that people ask in connection with a Sewer Line Repair service. Most people overthink it when actually, seeing and find out when the most ideal time is for a Sewer Line Repair service is actually easy.
Some of the most common things that you will experience that are out of the norm would include:
Unpleasant smell that's coming from the sewer lines, radiating through the sinks and the drainage

Standing and collecting water on the flooring of the drains

Difficulty with the toilet flush

And many more
And while all of those might seem easy to notice, it's actually quite difficult and challenging to determine what caused the need for your sewer lines to be repaired. So, if you are really not sure what caused it, here's a quick list of the most common causes of sewer line damage.
The Most Common Causes of Sewer Line Damage
---
Sewer line damages and wreckages aren't just caused by a single reason. There could be heaps of reasons why your sewer lines are damaged – and here are a few of the most common reasons that could actually make up for why yours is already worn out.
Since water flows through these pipes, it can trigger oxidation, which, in turn, can rust and corrode the pipes. Even the strongest, the toughest, and the most durable pipes and lines in the industry can get corroded – imagine just being used for the purpose of transporting water, and it lasted for a decade, no matter how effectively galvanized and coated your pipes are, they will corrode.
This actually is one of the most common reasons why your pipes are severely damaged and broken. Most properties, especially those far off from the city, would have trees and any other type of plantation within its area or its vicinity. Through the years, the roots of the trees can actually grow larger than the tree itself, causing it to grow and take on paths that actually penetrate some piping systems. And what most people don't know about tree roots is the fact that when they come in contact with pipes, they wrap around it, causing it to crack, puncture, or even break.
Temperature is one of the many culprits of sewer line damage; and it cannot be avoided. When wastewater that's too hot, or those that have chemical compositions that can heighten the temperature of the liquid passes through a pipe, then it's only a matter of time. There could be a lot of other causes for the damages that can happen to your sewer lines, these are among the most common.
So if you know that you are in need of a Sewer Line Repair Service, who do you call? Which plumbing company or Sewer Line Repair expert should you trust? Here in Greater Houston, no other Septic Tank and Sewage System Company has trusted us here at Greater Houston Septic Tank & Sewer Experts.
Who Are We?
---
We have been and still are considered the best, the most reliable, and the most dependable Sewage System Consultants and Experts in the entire area of Greater Houston. Our dedication and our complete commitment to resolving all our client's problems and concerns with their sewage systems allowed us to be the best at what we do.
For all the needs and service requirements you have with your sewer lines, you can absolutely bank and count on us. We currently employ the best, the most hard-working, and most talented crew of Sewer Line Repairmen and Sewage System Experts in the industry. Never did we fail to give all our clients the quality and the caliber of Sewer Line Services they need.
Pipe Lining Service
---
When it comes to a Sewer Line Repair and the damage occupies 50% more of the entire dimensions of the pipe, that would call for our Pipe Lining Service. This particular process would help restore the original shape and dimensions of the pipe that you utilize within your Sewer Lines.
Using mechanical bonding processes, we would reinforce the inner diameter of the pipe, as well as the outside diameter, coating it with minerals that can prolong its life and its functionality. You will never have any problems with your Sewer Lines should you choose us to work on and handle it.
Contact Us Today!
---
Are you looking for the best and the most effective and the most efficient Sewer Line Repair service you can have here in Greater Houston? Are you in need of a company that you can trust? Don't hesitate to give us a call or send us an email here at Greater Houston Septic Tank & Sewer Experts!
Wherever you may be located within the city, we will be right away with you! Consider us as your go-to option for all the services you need for your Septic Tanks and Septic Systems, Sewage Lines and Systems, as well as Drainage and Plumbing Systems!
Talk to us and never regret your decision of doing so!
We offer a variety of services at the Greater Houston Septic Tank & Sewer Experts. Below, you will see the most popular services our clients & customers always ask for. But if you need something that may not be listed, don't worry. Just give us a call or fill out a form, and we'll make sure to come out to your property or business and make sure we can help you solve your septic problems
Here is a list of the additional services you can get at Greater Houston Septic Tank & Sewer Experts:
Here at the Greater Houston Septic Tank & Sewer Experts, we provide the best septic tank services throughout all of Texas and specifically the Greater Houston Area. Below are the nearest cities we can offer immediate services. But if you don't see your city listed below, don't worry! Just give us a call or fill out a form on our contact page, and we'll make sure to take good care of you.
Greater Houston Septic Tank & Sewer Experts
11807 Good Spring Dr Houston TX 77067
713-568-0151