Top Sewage Pump Services & Repairs in Houston, TX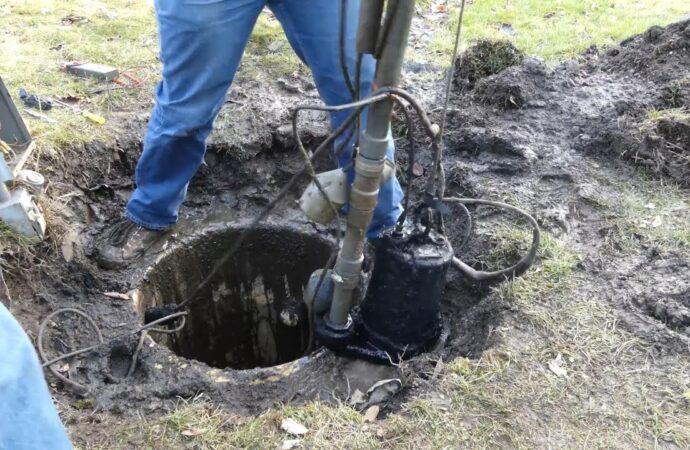 If your house has a basement or has an area or a bathroom that is below the levels of where the sewage system lies, then you have a sewage pump. Many people aren't even aware that they have a sewage pump installed within their properties. So, if you're a part of that demographic, you might want to check out your house again.
How Does a Sewage Pump Function?
---
For the benefit of everyone, a sewage pump is a mechanism that helps in the moving and relocating of liquids that can't actually be taken care of by gravity. Normally, sewage pipes are only the paths used in order to transport wastewater to the main sewage system. However, because there are certain situations where the sewage lines aren't at the level of the sewage system, it needs some help and assistance to transport it upwards. That's where the benefits of sewage pumps are recognized.
They're used for many different things, but among the most common reasons why they're installed is to prevent the ponding or the gathering of water within your basement floor. Another is that they're used to remove and to draw out wastewater – and also waste – out of the sewage system or the septic tank you have installed for your home.
Sewage Pump Maintenance
---
Depending on the frequency of water usage in the particular area that isn't handled by gravity, that's where you'll actually start calculating when you need to have your sewage pump maintained or pumped.
For instance, if your basement isn't used that often, say it's only used just once a month, you don't have to worry about it. You can have it go for an entire decade. However, if it's used in the same leagues as how the regular sinks and drains are used, then you need to consider having it maintained and pumped regularly, too.
Types of Sewage Pumps
---
There actually are three (3) different types of Sewage Pumps. They are:
Effluent is the liquid or the wastewater that is discharged into the drain fields (septic systems) or the river or the sea (for sewage systems). Therefore, the effluent pump is used to pump the effluent that is positioned below the main pipeline that would take it either to the septic tank or the main sewage line. Without it, the effluent would be unable to travel to where it's supposed to be; causing foul and bad odors and contamination of the system.
A grinder pump is a type or the kind of machine that can pump out raw sewage. It has a composite of grinders that can cut and grind solids like sludge and other materials into small particles so that it doesn't cause any problems or troubles within the sewage system. This allows the movement of wastewater smooth and seamless – without the fear of it clogging or being blocked.
Solid Handling Pumps are the pumps that work in the same ways in which grinder pumps do. It is also dubbed and known as a sewage ejector pump and is the mechanism that is used to pump out raw sewage. There are times when there are many solid materials in raw sewage; therefore, a regular and a normal pump wouldn't be able to handle it.
Sewage Pump Maintenance and Services
---
There are not a lot of people who are well aware of when the exact time for the pumping, cleaning, or other maintenance services. But, that wouldn't be a problem when you choose us here at Greater Houston Septic Tank & Sewer Experts.  For years, we have been deemed and known to be the proximity's top-rated Sewage Pump Expert and Professional, capable of providing a whole wide range of services for your sewage, septic, drainage, and your plumbing system.
We Can Give You a Free Sewage Pump Inspection
---
Our services are well accommodated with a free inspection of your sewage pumps in order for you to know what the specific service you need is! Of course, that would involve us asking for some information from you pertaining to the condition and the status of your sewage pump or your sewage system. When you allow us to perform a sewage pump inspection, we'll be able to know what to do, how much you're going to need, how long the service will run, and overall – what you can expect from our services.
Fast and Urgent Delivery
Another primary reason why many homeowners and even commercial and business owners trust us is because of the fact that we offer fast, urgent, and seriously hasty delivery to whatever services our clients ask from us. We're not only the best when it comes to servicing residential properties, but you can also bank and count on us should you need help with the commercial sewage pumps you have in your property, too!
Decent Rates and Prices
While other sewage pump experts and companies take advantage of the situation, especially with clients who don't have an idea about their septic and their sewage systems, you can bank and count on us. We have the most honest, the most transparent, and the most trustworthy Sewage System experts and professionals; you'll never worry about rates because even if you think it's low, the quality is never compromised.
Do We Service Your Area?
---
If you're already growing interested and enthusiastic about our Sewage Pumping Services and Maintenance, you would ask this question. To answer it, if ever you're just within the proximity of Greater Houston, or any other community, town, or city around it, we'll be able to help you!
Never have we rejected a service request or a concern of a client. We're always ready and prepared to give everyone the Sewage Pump services they need.
Work with the best – work with us here at Greater Houston Septic Tank & Sewer Experts and never worry about where and how you can get the best and the highest quality of Sewage Pumps here in Greater Houston!
We offer a variety of services at the Greater Houston Septic Tank & Sewer Experts. Below, you will see the most popular services our clients & customers always ask for. But if you need something that may not be listed, don't worry. Just give us a call or fill out a form, and we'll make sure to come out to your property or business and make sure we can help you solve your septic problems
Here is a list of the additional services you can get at Greater Houston Septic Tank & Sewer Experts:
Here at the Greater Houston Septic Tank & Sewer Experts, we provide the best septic tank services throughout all of Texas and specifically the Greater Houston Area. Below are the nearest cities we can offer immediate services. But if you don't see your city listed below, don't worry! Just give us a call or fill out a form on our contact page, and we'll make sure to take good care of you.
Greater Houston Septic Tank & Sewer Experts
11807 Good Spring Dr Houston TX 77067
713-568-0151