Sewer Line Repair Near Me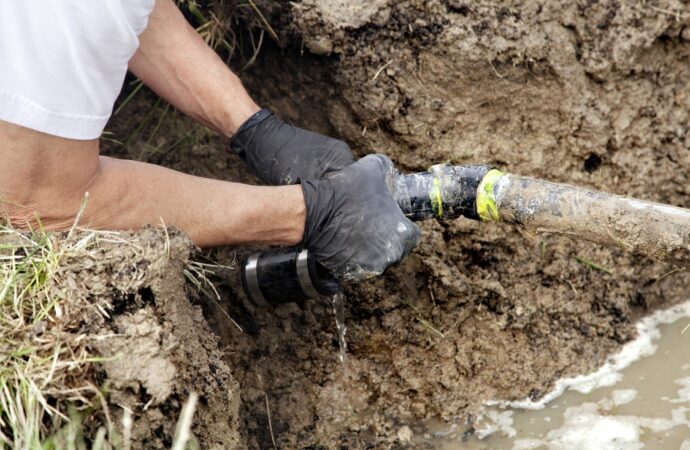 Major sewer line repair near me is needed when experiencing broken pipes, corrosion, and water blockages. Do you see these at home? Better hurry up and get the guidance and assistance you need. Greater Houston Septic Tank & Sewer Experts does more than just unblock and clean drains. We offer a full range of sewer services including maintenance of main sewer lines, construction of sewer lines, and cleaning of sewer lines.
The sewage lines or the pipes running from your house to the city sewer, and even a septic tank all needs regular maintenance. Otherwise, the clogs and other issues would lead to serious repair of the sewer line. The clogs in sewer lines can occur naturally, but contacting a professional is the only way to know for certain whether your main sewer line needs sewer line repair or unblocking.
If you've just moved to your new home or apartment, you'll need to find a professional plumber like us to test your sewers. You may need regular inspections everywhere, from twice a year to once every three years depending on the state of your sewer line. To avoid damage it is necessary to obtain the appropriate support to repair or replace the sewer lines as soon as possible.
Defective Pipes:
---
If your pipes are broken, defective, punctured, or collapsed, our plumbing experts are skilled in repairing the following drainage plumbing problems.
Sewer Blockages:
---
The accumulated waste can result in grease buildup or foreign objects restricting or preventing proper water flow or sewer line cleaning.
Corrosion:
---
The pipes can deteriorate over the years, creating blockages in the line and reducing the usable or required flow of water. Stop spending on replacements to sewer lines. You just need to contact our team and we will ensure you have a septic system that works. We have great feedback from customers because we owe them our utmost reliability and commitment to whatever service they want to use. We're also located in the heart of town so visiting or calling our store is no problem. Call on us and use the best.
We offer a variety of services at the Greater Houston Septic Tank & Sewer Experts. Below, you will see the most popular services our clients & customers always ask for. But if you need something that may not be listed, don't worry. Just give us a call or fill out a form, and we'll make sure to come out to your property or business and make sure we can help you solve your septic problems
Here is a list of the additional services you can get at Greater Houston Septic Tank & Sewer Experts:
Here at the Greater Houston Septic Tank & Sewer Experts, we provide the best septic tank services throughout all of Texas and specifically the Greater Houston Area. Below are the nearest cities we can offer immediate services. But if you don't see your city listed below, don't worry! Just give us a call or fill out a form on our contact page, and we'll make sure to take good care of you.
Greater Houston Septic Tank & Sewer Experts
11807 Good Spring Dr Houston TX 77067
713-568-0151